Heavy rains in Ivory Coast's cocoa-growing areas are slowing the harvesting and sales of beans and farmers say they're worried about black-pod disease rotting their crops.
Bloomberg reports claim that roads to plantations in the southwestern area of Meagui have been cut off after rivers overflowed and farmers can't access their crops, which means they don't know how the flowers and pods on the trees are developing, according to local grower Dongo Koffi, who was contacted by phone.
"Everything is stopped at the moment. The sales have slowed down because we can't harvest. Some farmers have some stocks of beans with them but they can't sell them, because the roads aren't accessible."
While it's still unclear whether Ivory Coast output will be materially affected, any losses due to the heavier-than-usual rainy season in the world's top cocoa producer may help ease some pressure on prices, which have dropped by more than a third in the past 12 months amid expectations for a global surplus.
The country, which is currently harvesting the smaller of two annual crops, is expected to produce a record amount this year. Satellite imagery from the U.S. Climate Prediction Center for June 22 to 28 suggests rainfall at or above normal across Ivory Coast.
Year-to-date data from the National Meterological Service through June 20 also showed an increase from 2016 in the Sassandra and San Pedro growing areas, as well as in the east.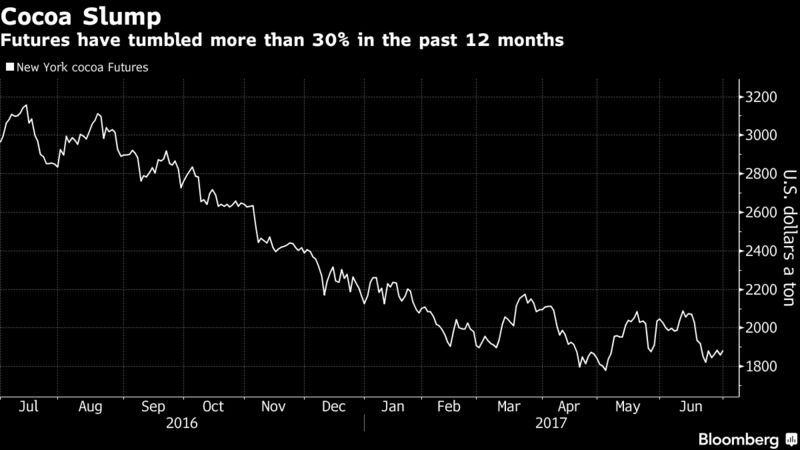 Road access to the port of San Pedro was restored last month after roads and bridges connecting the region to the city were cut for about a week because of heavy rains, according to the prime minister's office.
Rains have been much more abundant than in June last year and farmers are concerned the wet weather will bring diseases like the black-pod rot, said Jean Kadjo, a grower in Niable in the east. Farmers surprised by the intensity of the rain haven't been able to treat crops properly, while sales have slowed even for those smuggling cocoa across the border to Ghana in search of higher prices.
"In April and May, every week we could see about 10 trucks loaded with cocoa going through the city towards Ghana," said Kadjo.
"Now, there are about two of them. Farmers in Issia, in the center-west, have been able to tend to their crops including removing rotten pods", said Emile Yerpley Zadi.
However, strong winds have torn some flowers off trees and the heavy rain is interspersed with overcast weather rather than sunshine, he said.
In Ghana, the second-largest producer, rainfall has been above normal in the cocoa growing regions, said Charles York, a meteorologist at the Ghana Meteorological Agency.
Stephen Boakye, a chief farmer who supervises about 500 growers in Kibi, in the eastern region said while trees are developing new flowers, farmers are concerned about some emerging signs of black pod disease. Farmers have asked the Cocoa Board to quickly conduct another round of government-sponsored mass spraying "to avert a situation where we become victims of the blessing of rainfall,'' he said.
Source: Bloomberg
Edited for Aprecon by McDike Dimkpa